GENERAL INFORMATION ABOUT SPONSORS AND EXHIBITIONS

Ordering of booth space opens October 15th at 12 o'clock - usually sells out in the first few hours!
Here to the right is a list of all the companies confirmed in the exhibition area. Companies are invited to participate in Platinum, Gold, Silver or Bronze membership.
Harpa is extremely well suited for holding large conferences and shows, and we will have the most of Harpa's hall during the conference as well as the spacious exhibition space distributed throughout the house.


The exhibition area on the 1st floor is in Flói and Norðurbryggja (in front of Kaldalón)
The exhibition area on the 2nd floor is in Eyri (in front of Silfurberg).
The level of innovation is the floor in the ladder between the 2nd and 4th floors (heading up Kolabraut).
Hörpuhorn is on the 2nd floor in front of Eldborg.
Eldborgarvegur is on the 2nd floor where the big ladder is set up.
Here is a picture of the areas in Harpa
PLATINUM PARTNER 800.000 KR (6.200 EUR)
- MAX. 4 (SOLD OUT)
(Platinum members of the past UTmessu have priority in Platinum membership)
What you get:
6 tickets for the UTmessan conference

16 fm showroom in the best place in the exhibition hall in Harpa on the 1st floor

name and logo company marked as Platinum Sponsor

In a newsletter / advertisement that will be sent out at least.

2 times on the mailing list

in the program brochure of the conference

link to your website's website UTmessan.is
What UTmessan wants from Platinum members:

contributions to the conference program in a decisive way, eg in the form of a foreign lecturer on hot topics in IT

prominent items that attract the public to the exhibition area on Saturday

Broadcasting on your mailing list, such as customers


one representative for co-operation with the conference preparation committee
GOLD PARTNER 450.000 KR. (3.500 EUR)
- MAX. 10
What you get:

4 tickets at the UTmessan conference

10 fm showroom in the exhibition hall in Harpa on the 1st floor

link to your company on the UTmessan website
SILVER PARTNER

200.000

KR. (1.500 EUR)
What you get:
1 ticket at the UTmessur conference

6 fm showroom in the exhibition hall in Harpa on 1st floor


link to your company on the UTmessan website
BRONS PARTNER

150.000 KR.
(1.200 EUR)
What you get:
1 ticket at the UTmessur conference

6 fm showroom in the exhibition hall in Harpa on the 2nd floor

link to your company on the UTmessan website
START-UP

40.000 KR. (300 EUR).
What you get:
4 square meter space in the stairs up Kolabraut

link to your company on the UTmessan website
-----------
FRAMEWORKS AND CONDITIONS FOR EXHIBITORS:
A 50% fee must be paid in case of cancellation before 1 January. 2019, after that, a full fee is charged unless canceled.
We ask the exhibitor to keep in mind that this is a technical show and fun would be to see more being promoting and giving technical supplements instead of sweets and foods. Also, sweepstakes and games can be rolled out. We all want the show live and fun. At the same time, we wish that exhibitors take into account each other and set noise and show professionalism in communication with other exhibitors. Refreshment that separates trash such as pops or objects that make it leak down would be good to avoid even boring when, for example, pop has spread throughout the house. It is not allowed to have alcoholic beverages in the booths.
Send us information if you're going to offer something fun and we'll show it on the web when it's nearer ( This email address is being protected from spam bots, you need JavaScript enabled to view it. ) It should be noted that the show is open both Friday and Saturday and is obliged to stay open for both days.
Performers need to meet themselves with everything in the booths, such as chairs, tables, markings and other assigned floor space. Access to electricity and wireless networks is included. You can rent a table and other parties, such as Exhibition Systems , Labeling , RECON and Harpa. There are also numerous print centers that print booklets and other materials in the booths.
Why Become ansponsor?
A great opportunity to introduce your company, products and services to administrators, technicians, and IT professionals, students in computer science and the public. This applies to all companies that are directly or indirectly dependent on information technology and independent of market areas because the purpose is to show the ICT sector in Iceland.
Particular attention is given to the fact that exhibitions will be something interesting for the public on Saturday and the exhibitors will oblige themselves to have a full presence on Friday and Saturday during the UTmess.
Your benefit:
Tickets at the UTmessur conference

Stronger connection with the relatives of UTmess

Opportunity to meet friends and acquaintances and promote networking

Good presentation of your company and ideology

Participate in an event that aims to show Icelanders the degree of progress in the ICT sector

Opportunity to help young people choose ICT as a future job - even your company as a future workplace!
UTmessan consists of a conference on the one hand and a showroom on the other. On Friday there is a conference and show day for a conference trip and will cost you on that day. The exhibition area is open to the public on Saturday. All major computer and technology companies in the country display the latest technology and tools along with software and more related technology. One of the largest and most beautiful shows in Iceland.
We are looking forward to you with participation in the UTmail, both in the showroom and in a different way, to make the UTmail even more cool and more interesting to the public, such as games or other things that attract people. The companies that are in the UT show showcase are at the forefront of the computer sector, regardless of whether or not Iceland is their market. Everyone has a common interest in encouraging most people to go to computer-based learning, and so many companies are there to show that working in the computer sector is very diverse.
DAGSKRÁ RÁÐSTEFNUDAGS 2. FEBRÚAR - (CONFERENCE AGENDA)


- ATHUGIÐ UPPSELT Á RÁÐSTEFNUNA -
KEYNOTE SPEAKERS 2018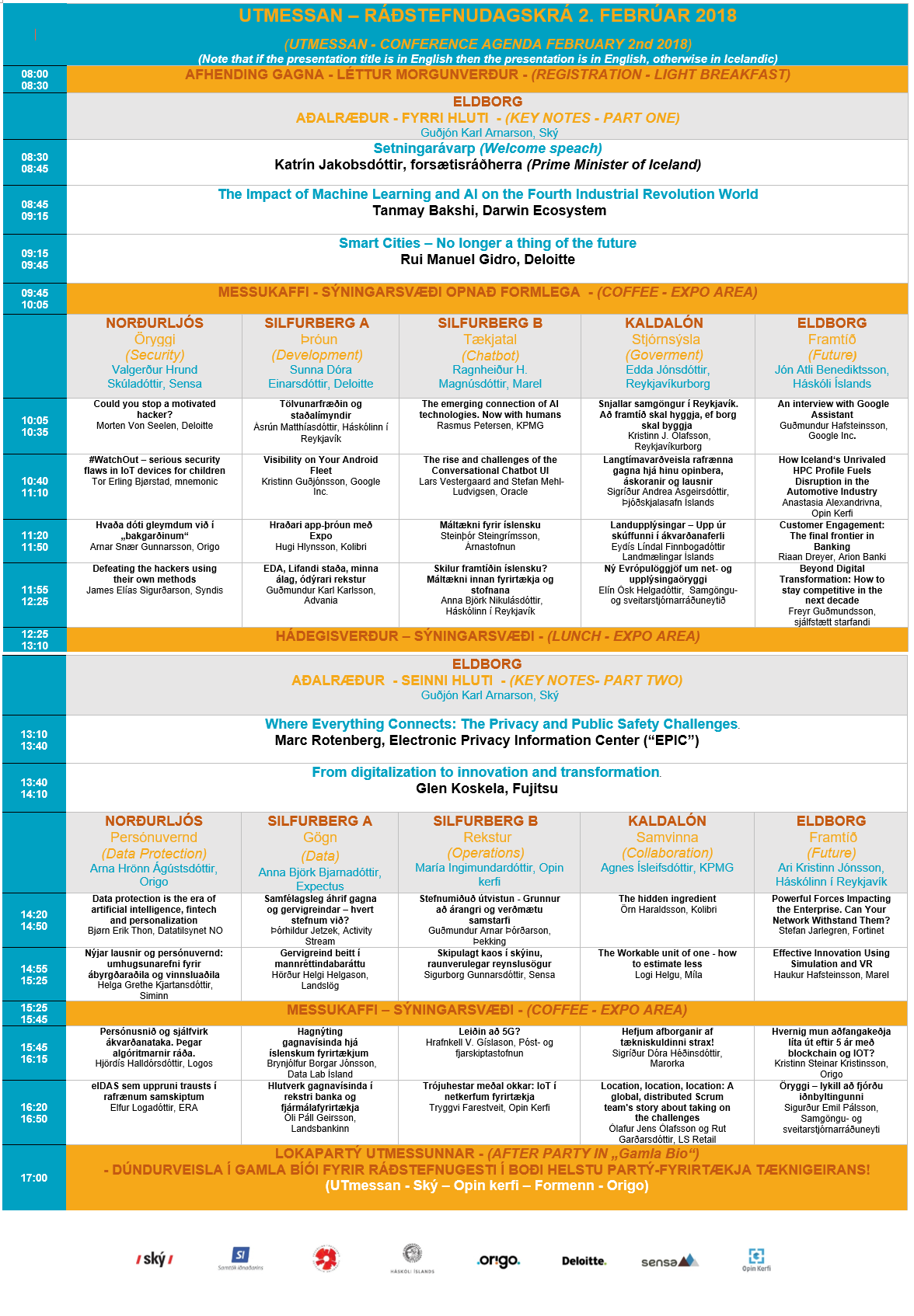 Ef þú vilt hlaða niður heildardagskrá á tækið þitt er hér pdf útgáfa sett upp á stuttan og hnitmiðaðan hátt (CONFERENCE AGENDA AS PDF - FOR YOUR DEVICE)
Ef þú vilt skoða heildardagskrá með nánari lýsingu á fyrirlestrum er hér pdf útgáfa með meiri texta (CONFERENCE AGENDA AS PDF WITH LONG DESCRIPTION)
Aðalræðumenn (Keynote Speakers)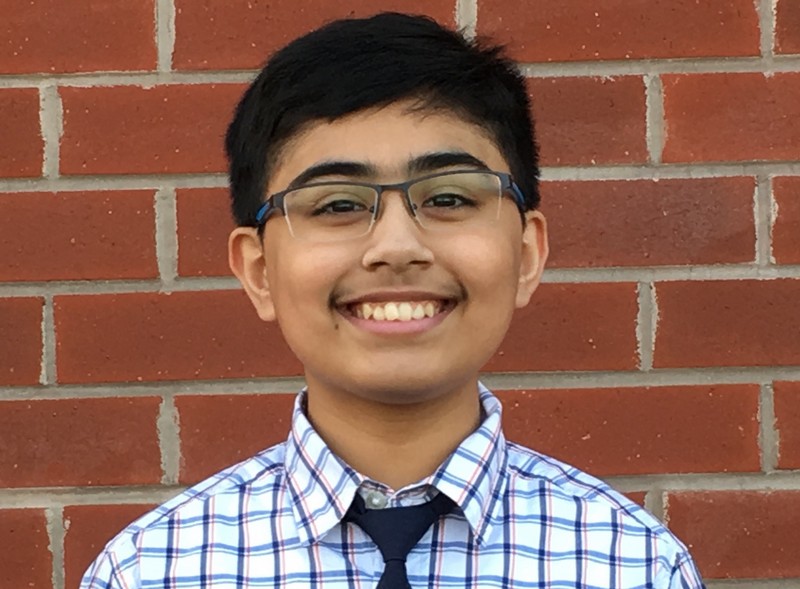 Tanmay Bakshi

Algorithm-ist


Darwin Ecosystem
Short BIO: Tanmay, 14 ára, er heiðursráðgjafi og talsmaður IBM á sviði tölvuskýja sem byrjaði að forrita aðeins fimm ára gamall. Hann er á meðal yngstu forritara á sviði hugrænnar tölvunar og tölvuskýja sem þróa forrit til að auka getu mannsins með notkun djúptauganeta. Síðustu níu árin hefur ástríða hans fyrir því að læra og deila þekkingu sinni á ýmsum greinum, meðal annars hugrænni tölvun og gervigreind, kennt honum hvernig hægt er að nýta vélrænt nám (e. machine learning) með sem bestum hætti á vettvangi banka- og fjármálastarfsemi, heilbrigðisþjónustu, læknisfræði, tónlistar og spjallþjarka. Tanmay er um þessar mundir að vinna í markmiði sínu um að þjálfa og vekja áhuga 100.000 barna og byrjenda í forritun með bókarskrifum og kennsluefni á YouTube rásinni sinni. Einnig er hann að þróa einstakt kerfi fyrir fólk með Rett heilkenni sem mun gera þeim kleift að tala í gegnum rafboð á heilariti sem kerfið nemur og túlkar.
(Tanmay, age 14, is an Honorary IBM Cloud Advisor and Champion, who began coding at the age of five. He is among the youngest cognitive and cloud computing developers who build applications engineered to augment human capabilities via deep learning. Over the last nine years, his passion for learning and sharing about numerous topics, such as cognitive computing and AI, has taught him how to best utilize and apply Machine Learning in fields ranging from banking and finance to healthcare, medicine, music, and chatbots. Tanmay is currently working to achieve his goal of inspiring and training 100,000 kids and novice developers through the books he's authoring and the tutorials on his YouTube channel. He is also developing a unique system for those with Rett Syndrome, so they can "speak" through the detection and interpretation of EEG signals analyzed by his neural network systems.)

Rui Manuel Gidro

Partner at Deloitte Portugal

Deliotte Portugal
Short BIO: Rui Gidro is a partner in the Deloitte Consulting division and member of the Strategy & Operations group. Rui has specialized in the transportation industry, in particular in the airline industry . He is currently working with the major airline in Portugal. During his career, he has mostly specialized in the transportation industry and public sector both in Portugal and Angola. Rui is now leading the municipality sector in Portugal along with the Smart City team mainly on the strategy side.




Marc Rotenberg

President


Electronic Privacy Information Center (EPIC)
Short BIO: Marc Rotenberg is President and Executive Director of the Electronic Privacy Information Center (EPIC) in Washington, DC. He teaches information privacy and open government law at Georgetown Law and frequently testifies before Congress on emerging privacy and civil liberties issues. He is a founding board member and former Chair of the Public Interest Registry, which manages the .ORG domain. He is editor of "The Privacy Law Sourcebook" (EPIC 2016) and "Privacy and Human Rights" (EPIC 2006) and co-editor of "Privacy in the Modern Age: The Search for Solutions" (The New Press 2015) and (with Anita Allen) "Privacy Law and Society" (West 2016). He currently serves on expert panels for the National Academies of Science and the OECD Directorate for Science, Technology, and Innovation.

Glen Koskela

Fujitsu Fellow, CTO Nordic and Head of New Business Development


Fujitsu
Short BIO: Glen has over 34 years of experience with a wide range of business, technology, solution and services context in international and senior roles across the Fujitsu group. He drives co-creation with customers to digitalize their business operations, jointly designing innovative solutions that leverage Fujitsu's R&D capabilities. He has a broad understanding of the impact of emerging technologies on the market and customers. Glen has been granted the title of Fujitsu Fellow. He participates actively in the work of national innovation system and currently serves as Chairman of Innovation Working Group for the Federation of Finnish Technology Industries.
RÁÐSTEFNUDAGSKRÁ
3. FEBRÚAR 2017
- uppselt er á ráðstefnuna -
---

---
---
DAGSKRÁ - YFIRLIT


(Conference agenda)
Nýsköpunarráðherra, Þórdís Kolbrún Reykdal Gylfadóttir setur ráðstefnuna og í lok dags veitir forseti Íslands, hr. Guðni Th. Jóhannesson UT-verðlaun Ský.
Að venju eru hæstráðendur stóru styrktar- og samstarfsaðila UTmessunnar fundarstjórar enda UTmessan samstarfsvettvangur allra sem koma að tölvu- og tæknigeiranum á íslandi.
Frábærir fyrirlesarar á öllum þemalínum ráðstefnunnar og erindin hvert öðru fróðlegri. Njótið dagsins!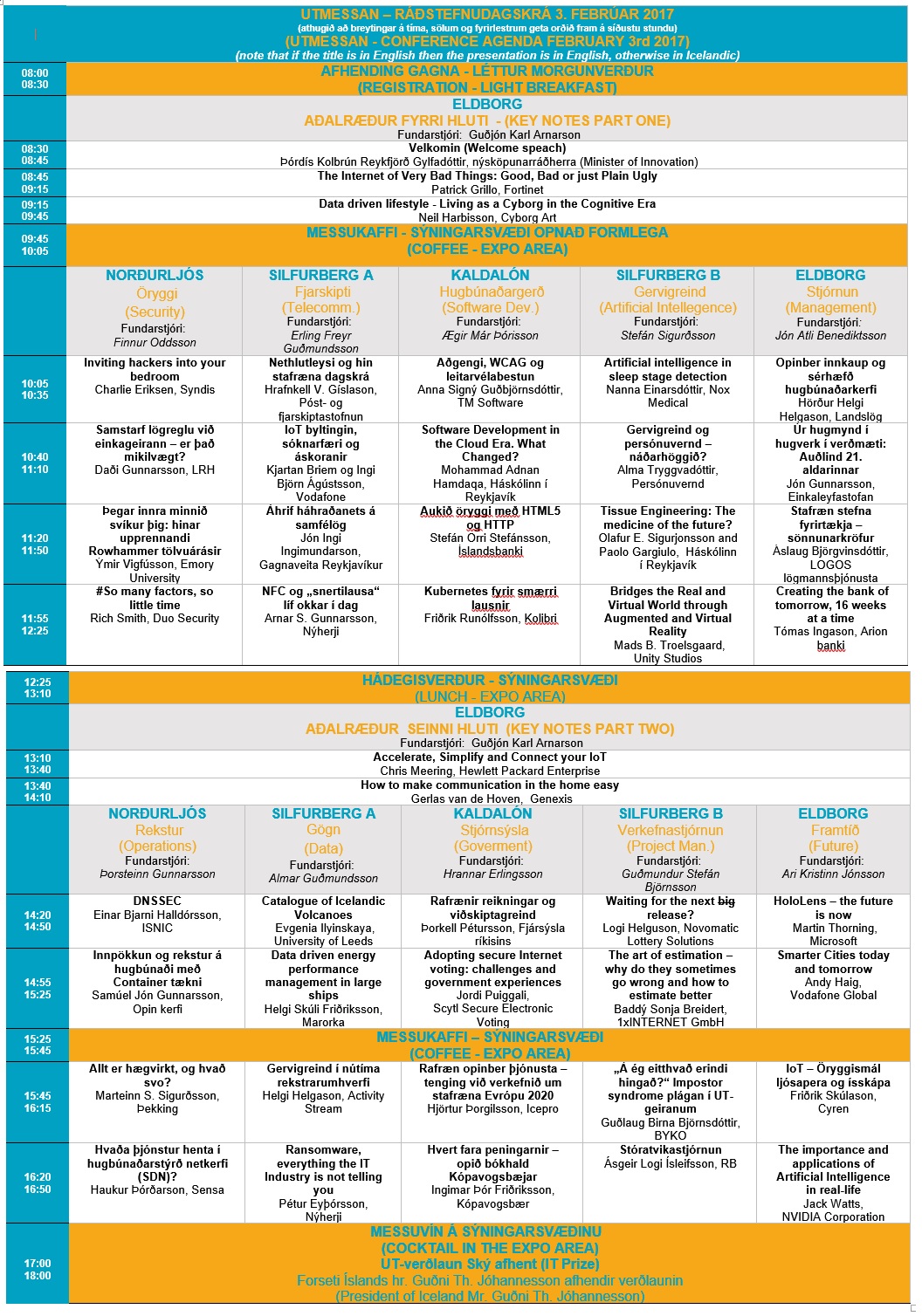 Ef þú vilt prenta út eða vista yfirlit yfir dagskrá án nánari lýsingar er hér pdf skjal (pdf document - short conference programme)
Ef þú vilt prenta út eða vista dagskrá með nánari lýsingu á fyrirlestrum er hér annað pdf skjal (pdf document with conference programme and abstracts)