UTmessan
"Where everything connects"
UTmessan 2019 - February 8th and 9th
| | | | | |
| --- | --- | --- | --- | --- |
| Conference | | Conference day | | Exhibitors |

Are you thinking of coming to UTmessan?
We would love to have you!
Want to speak at UTmessan? Fill out this Call for papers form - send to This email address is being protected from spambots. You need JavaScript enabled to view it. latest 1st of November 2018
Want to have booth at the Expo area? - registration form opens October 15th at 12 o'clock.
About UTmessan
UTmessan is one of the largest IT events in Iceland. The purpose of the UTmessa is to highlight the importance of information technology and its effects on individuals, businesses and Icelandic society alike. The goal is to see a significant increase in the number of students who choose technical disciplines in universities across the country and especially in computer science.

The event will take place at Harpa Conference Centre and is twofold:


Friday 8 of February -
a whole day conference for the IT industry and a big exhibition.
There will be many tracks at the conference; a track for top level managers and CEOs, a track for CTOs and technical managers and a track for programmers and IT professionals. Also we will give the IT award at a special ceremony at the end of the day.
Saturday 9 of February
- the fair will be open on Saturday too with free enterance where all of the biggest IT companies in Iceland will take part.
The fair is open to the public and there we hope to see professionals and families alike take part. We have planned events that hopefully will generate an interest of the younger generations in the IT branch.
The event is a joint collaboration between Ský (The Icelandic Computer Society), The University of Iceland, Reykjavik University and The Federation of Icelandic Industries.
UTmessan is one of the largest Tech Conference and Expo in Iceland - and the only undependent and non-profit event about IT.
There are 10 tracks at the conference - five running at each time.
We aim to have at least one presentation in English running and hopefully more but some of the presentations are in Icelandic.
If you need more information you can contact This email address is being protected from spambots. You need JavaScript enabled to view it.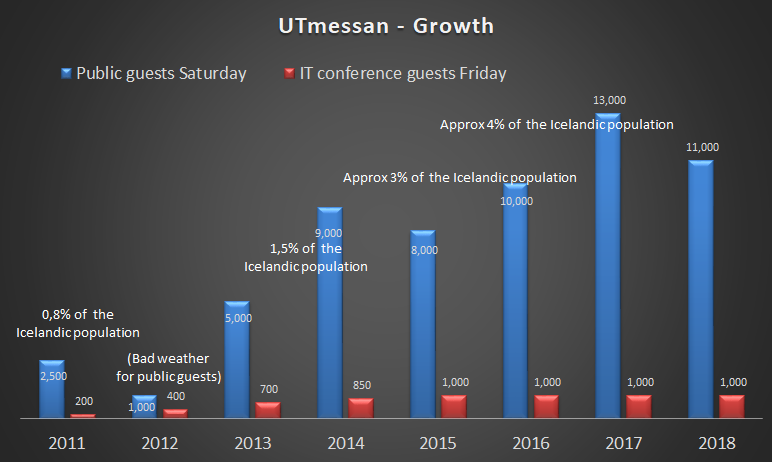 (Note that some presentations are in English and some in Icelandic)